Discover more from The Daily Draft
This is where Zac Small writes about keeping your Marriage Strong, life as a Peaceful Parent to a Son & Daughter, being Sober, Politics, Overcoming Childhood Trauma, the views of a Veteran, and Hot Topics of the week.
Over 3,000 subscribers
Friday Shots
I've picked the Camera Back Up, Not the Bottle
I've been getting into photography and want to share the journey along the way for critiques from my photography peers and to inspire others looking to take the craft on.
Also, The Daily Draft with Zac Small is a user-supported platform, so please subscribe if you want to support my message and the content shared here. If the writing is worth it, upgrade to become a paid member and get the entire archive, all future works created, and VIP Q&A status.
---
I'm still sober;
these shots are different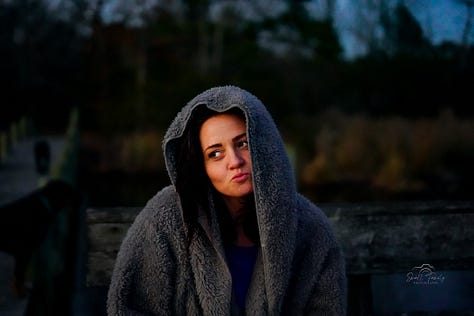 As you can see, I've been looking to diversify my subjects, color palette, and perspective on the photos taken.
I'm in the testing phase;
I still don't know exactly what I want to shoot or if I want to niche myself down to shooting a certain anything at all. Maybe I'm a street photographer who takes life shots as well, I don't know, and right now, it doesn't matter;
All that matters at this point is getting in the reps and better understanding my equipment and how to use Lightroom for my edits.
I've been using a prime lens only (Sony FE 1.8/50mm) because I want to manipulate my body around the subject to get my chosen angle. I will eventually invest in a Sony FE 200-600mm lens for long-distance shots to alternate between working the angles on the close end and capturing the long-distance shots.
I find photography very therapeutic because I have structure when I write, but when photographing, I'm setting myself up to capture, not create. This allows my mind to be at peace and in the moment, thinking of what happened or will happen next, which keeps me from being in that moment.
Photography is my new alcohol.
It relaxes me, is fun, has me enjoying the moment more, and allows my mind to be at peace, away from the static - focused on the signal.
I am not creating any business or "side hustle" off this, but I did create a "Small Family Photography" Instagram for anyone who wants to follow along.
I made the account for the family, as my wife and kids know about and are skilled in taking photos, so we'll share our images in one spot.
In the future, if I hone the craft in, I'll turn it into something, but for now, I'm learning and am all ears for the photographers out there who are willing to lend lessons learned for me to accelerate the growth and learning.
- Zachary Small
If you want to make a donation for the work I'm doing without buying a program or getting a call in, you can use the link below to go directly to PayPal and drop whatever amount you desire: